HashMix, a next generation hashrate tokenization and marketplace protocol, announced today that it has raised $3 million in a funding round participated by HashKey Capital, Fenbushi Capital, Continue Capital, GBV, SevenX Ventures, Kenetic Capital, FBG Capital, LongHash Ventures, Morningstar Ventures, A&T Capital, Qtum among others. The fresh capital will be used for protocol development, marketing, and talent enhancement.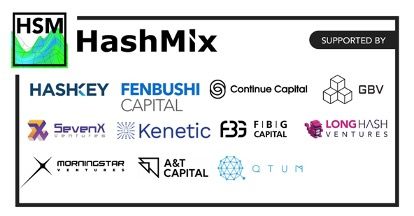 "We are proud that we have received financing from some of the world's top venture capitals and incubators in blockchain. They bring with them industry expertise, possible synergies and strong networks that will benefit the project in the long run," said WB, Founder and CEO of HashMix.
The crypto mining industry has been plagued by centralization and illiquidity. Although cloud mining allows investors without expensive hardware to mine cryptocurrencies and the emergent hashrate tokens provide liquidity for Bitcoin mining, they are only solving a piece of the puzzle.
HashMix, founded in September 2020 in Singapore, aims to further democratize, and activate the mining economy by introducing the world's first decentralized universal marketplace for various mining capacities using the non-fungible token (NFT) technology.
HashMix's tokenization protocol can convert mining power for any PoW blockchains, be it Bitcoin or Ethereum hashrate, or storage mining power in the Filecoin network, to NFTs tied to real-world hardware, with the benefit of traceability, tradability, and transparency. This prevents the risks of overselling and fraud, and effectively bridges different computing powers. Coupled with a set of protocols for trading, swapping, and lending, HashMix enables everyone, from miners to hashrate investors to DeFi participants, to buy and sell hash power seamlessly and access numerous financial options such as staking and liquidity mining.
'Hashrate tokenization has been a very exciting area of the blockchain markets in 2021, and GBV has been following the developments closely. HashMix has extensive relationships with miners and distributors, along with an experienced management team. We are excited to be working with them to develop the next generation of Hashpower finance and scale the industry as a whole,' said Leslie Tam, Partner, Co-Founder at GBV.
The HashMix ecosystem is supported and incentivized via HashMix's native token HSM. The team plans to roll out its first mining power NFT in June.
About HashMix
HashMix is a next generation hashrate tokenization and marketplace protocol. It allows anyone to buy, sell, lend, and swap mining power for various PoW blockchains in a decentralized way without a trusted third party beyond the barriers of geography, re-democratizing and powering a global mining ecosystem and solving issues such as overselling and fraud.