The quest for profits is always the top priority for traders. Binance, one of the world's major crypto exchanges, celebrated its 4th anniversary on July 14. Compared to other crypto exchanges, Binance offers an affordable way to buy and sell many diverse coins with reasonable trading volumes that are unavailable on most other crypto exchanges. In other words, abundant choices of spot trading with in-depth volume and house money effect after listing have always been attractive to many worldwide traders.
The past can cast light into the future. In order to understand Binance's spot trading better, PANews took a closer look at Binance's public listing announcements starting from 2021, and summarized a few takeaways as follows.
An overview of Binance's listing in 2021
Starting from January till now, Binance has listed 60+ projects so far within 7 months. And most listed projects have correspondent reports on Binance Research with in-depth and unbiased information.
Project Categories
Section: PANews has set up a few categories for these 2021 listed projects, and divide these projects into 11 categories, which are "Wallet and Platform, Public Chain, DeFi, DApp and Middleware, BSC Ecosystem, Stablecoin, Polkadot, NFT, Fan Economy, Meme and Stock Tokens'' respectively. Most projects performed above average market performance after listing with the halo of Binance. However, not all these categories continue to exist. Notably, Binance delisted its stock tokens on July 16th probably under regulatory reasons.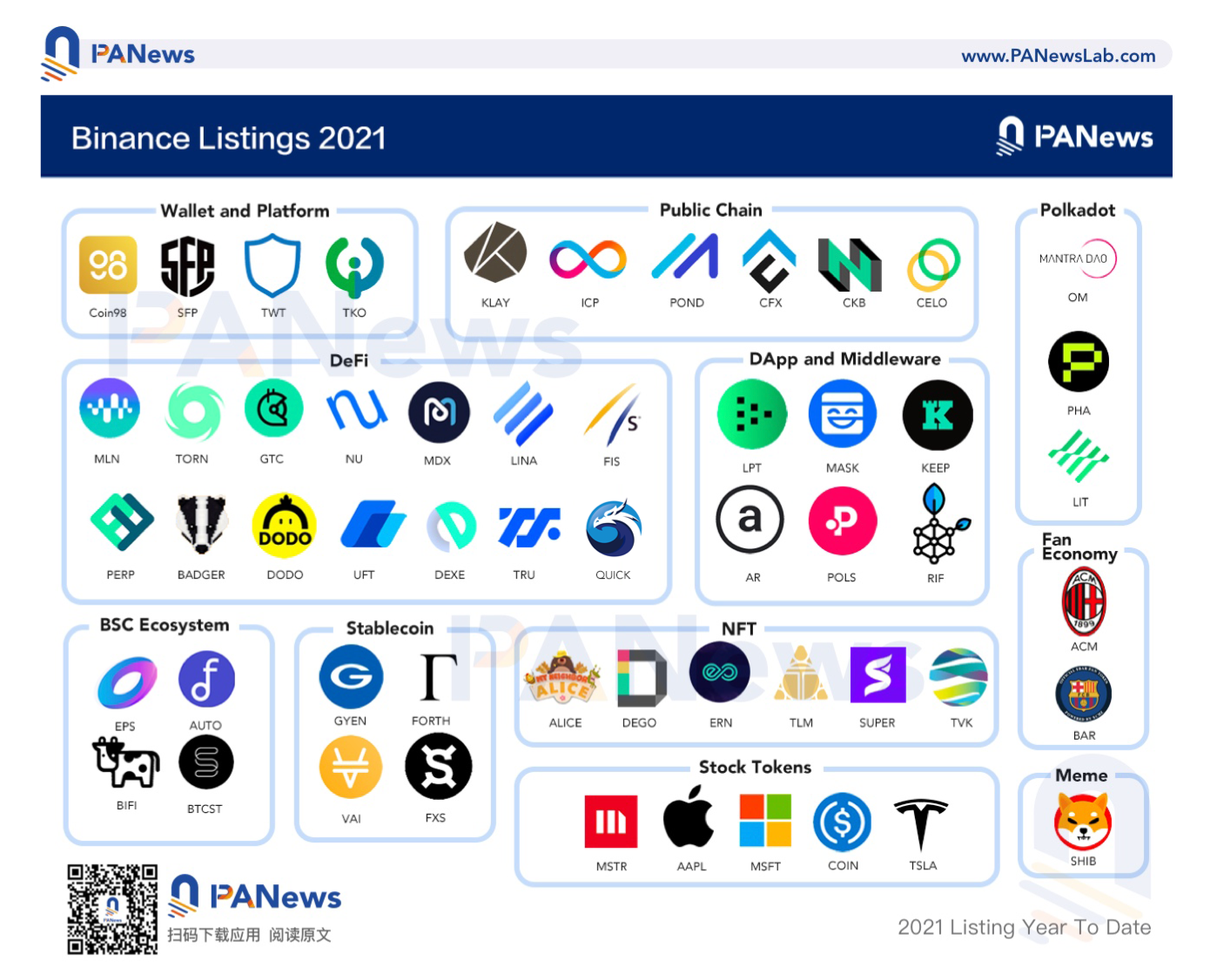 Region: as we can see from the announcements, these projects are well distributed all over the globe, with a bit lean on Asian regions due to its population and crypto user base. For example, DODO, CFX, CKB, BTCST, OM, PHA, LIT, DEGO, MASK are Chinese-led project , and Coin98 is from Vietnam, POND is from India. Most of these projects were listed before May. However, the future tightened policies and regulatory attitudes in Asian regions might make Binance consider more listings outside Asian countries.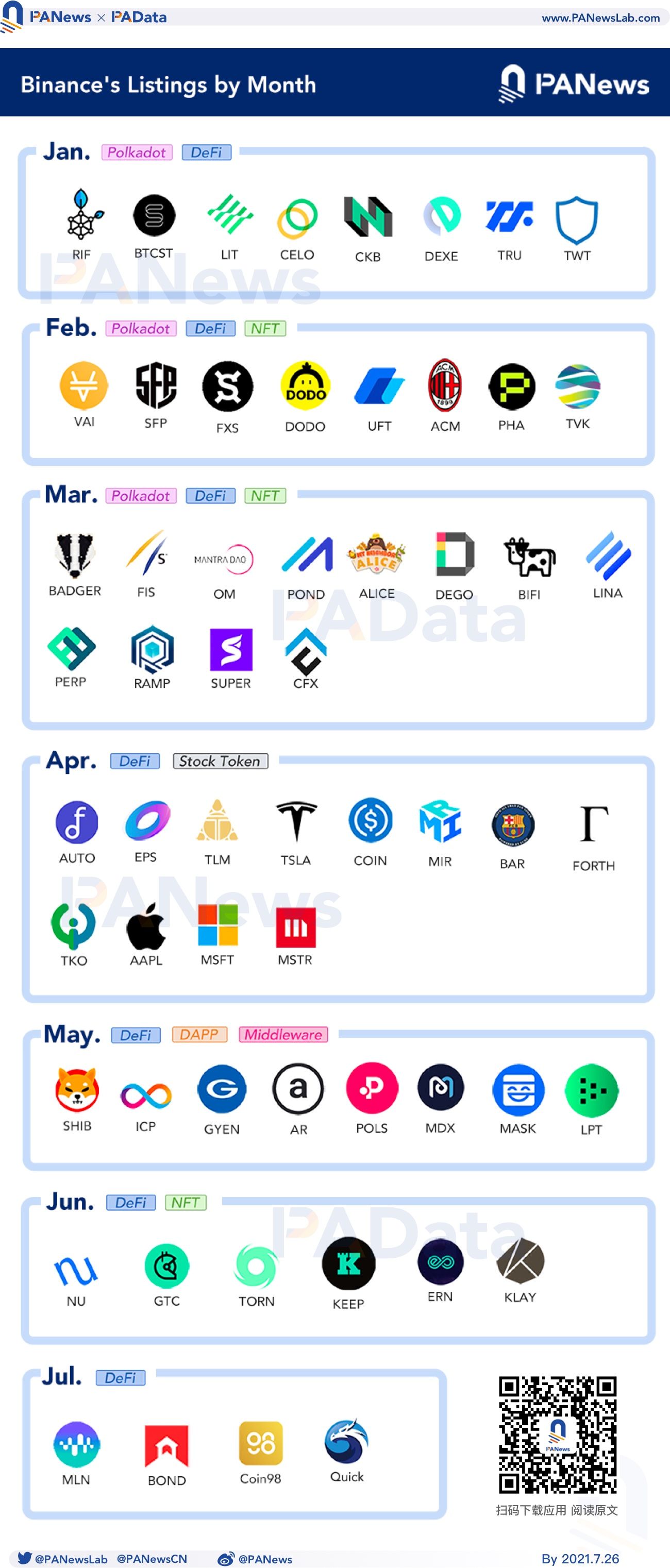 Monthly frequencies: The listing frequencies depending on the overall market and section rotations of the market. There are 9 listings in January focused on DeFi and Polkadot; 8 listings in February focused on DeFi and Polkadot as well including few NFT projects; 12 listings in March focused on DeFi and NFT, 12 listings in April focused on Binance Leverage Tokens and Stock Tokens, especially COIN; 8 listings in May focused on DeFi, DApp and Middleware, 6 listings in June focused on DeFi and NFT; 4 listings so far in July focused on DeFi as well. As we can see from its path of listings, Binance has always focused on DeFi first and then BSC. Starting from February, Binance has been focused more on the NFT, with its peak in June and July. The speed of listing has been slowed down during the drastic market crash in late May.
Listing Effects
Temporary listings: The logic of listing has been consistent, however, sometimes it might experience sudden changes under certain market conditions. Take Shiba Inu (SHIB)'s listing on May 10th as an example. According to Binance's announcement, SHIB is an experiment in decentralized community building and another meme coin similar to Dogecoin. Due to its large volume and meme FOMO mood during early May, Shiba was finally listed on Binance despite its immatureness and "pump and dump" features in the market.
Market Mood Leader: In general, Binance has been a leader to guide the market mood in advance. Most tokens listed on Binance have experienced an obvious increase in both token price and volume after listing. For example, during early 2021 in January, Binance promoted Polkadot and DOT ecosystem with various financing products as well as listings of Polkadot Ecosystem tokens, the price and volume of DOT and its relevant tokens has become more acceptable in the market compared to previous times.
In June and July, despite the fact that the crypto's greed and fear index is relatively low, NFT sections and GameFi projects continued to grow exponentially due to Binance's early listings and promotion events. See AXS, TLM, Alice, DEGO as examples. What's more, on April 14th, when Coinbase was listed on Nasdaq as a public traded stock, Binance also offered multiple options to trade traditional stock token tickers on its exchange. And most of these stock tokens are top tech companies that might have a certain influence on the crypto market.
Listing effects: Listing in general is beneficial to Binance's ecosystem and its platform token BNB. However, some bad listings or some accidental hacking incidents on BSC might have temporary negative effects on BNB.
How is Binance's listing different compared to previous years? And what's next?
Compared to previous years, Binance has listed multiple public chains, infrastructure and middlewares mostly before the emergence of DeFi. Now Binance is more willing to experiment with DeFi and NFT related tokens in its innovation zone since DeFi summer in 2020. Binance has listed DeFi in Ethereum first and later leaned on DeFi infrastructure on BSC. However, there were several hacking incidents happened on BSC ecosystem due to low entry threshold and poor code auditing such as Bunny and Venus, and Binance has slowed down its pace to list BSC projects into Binane's main site. Regarding this, Binance made several reasonable compensation plans regarding hacking incidents in a timely manner.Nevertheless, gas fees in BNB are much lower and the transaction speed is higher.
The abovementioned listings are also the main theme of 2021 so far. In the future, Binance's listing may be more bold and innovative, as long as its regulatory issues are settled. Besides, the new wave of GameFi, NFT and DeFi and decetranlized derivatives may change previous listing logic and listing patterns. We may expect a more dynamic and vibrant Binance ecosystem when Binance turns 5 next year.