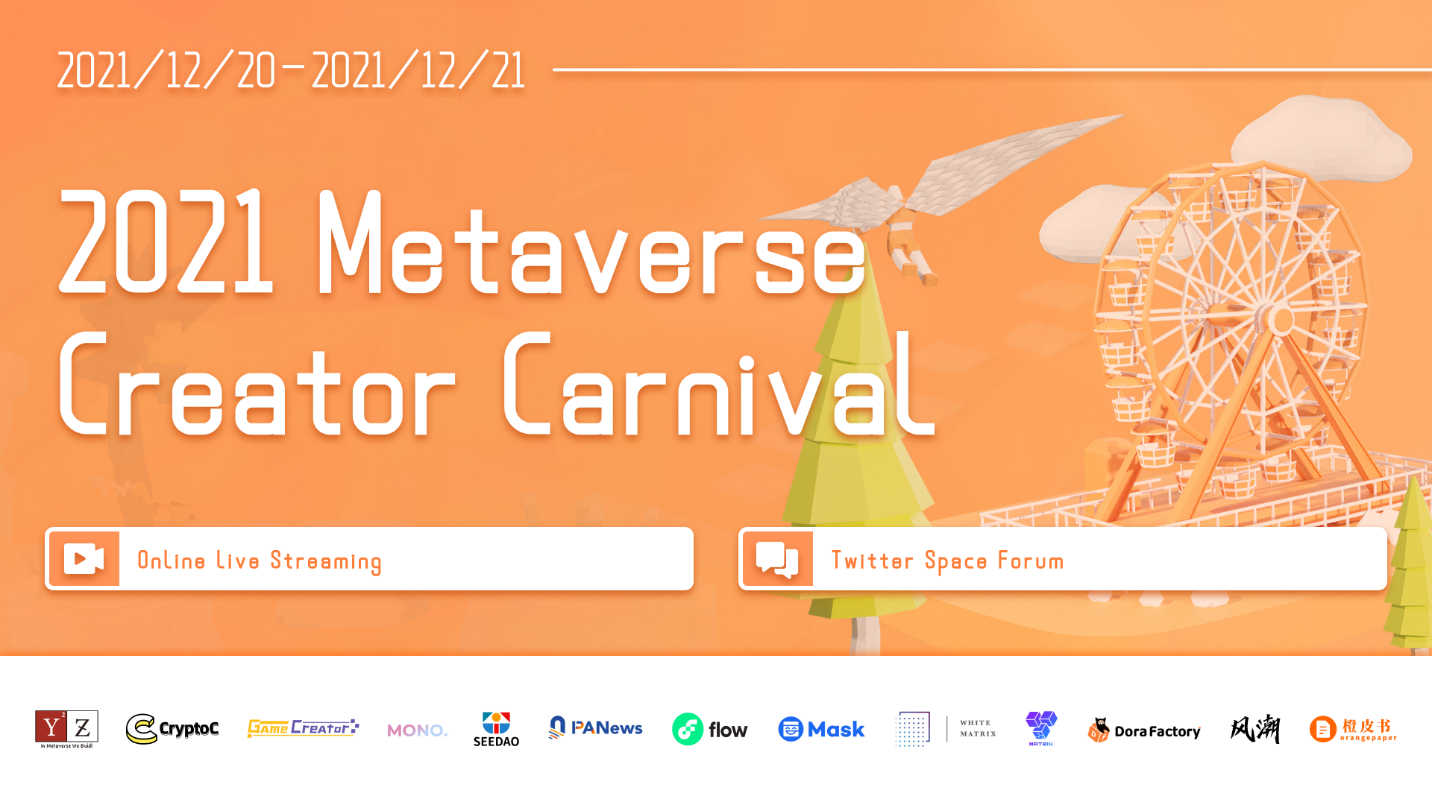 At the beginning of 2021, people started to discuss the future of metaverse, what the metaverse is, and how to participate in the metaverse. Now at the end of 2021, people come to the end of the first year of the metaverse, and it's time to share the initial results from creators and pioneers, and explore the future development directions.
Industrial innovation is a process of shifting from one S-shaped curve to another S-shaped curve. Web 2.0 represented by the mobile internet is entering the era of stock gaming, now it is time for the paradigm to shift to the next curve. Metaverse is not a utopia, but the next-generation Internet that enhances the real society and empowers the real economy. In 2021, the golden 10 years of Web 3.0 has officially started.
Metaverse helps creators achieve their dreams. In sandbox games, creators break the constraints of physical space and create buildings that are impossible in the physical world. Based on their own ideas, they create their own dream world with a high degree of freedom and completely own the autonomy in the digital world. Metaverse is not only a digital world, but a strong interaction and deep integration between the real world and the physical world. Be it virtual or real, the core is to enhance the user experience.
In the metaverse era, the collaboration across the entire society is expected to undergo fundamental changes, the breadth and depth of global collaboration will be rapidly expanded. Furthermore, a global collaboration system based on DAO will be established and release tremendous value.
The great geographical discovery 500 years ago gave birth to new organizational and financial mechanism such as the company system and bank system. Today, people carry out determined exploration of the metaverse, and such actions greatly promote the organizational and financial methods of DAO and encrypted assets to further evolve and develop. People are about to enter the era of metaverse creation, and the underlying technology and upper-level contents are in urgent demands to be activated, leading mankind to a higher level of digital civilization.
Jointly sponsored by y2z Ventures, CryptoC, GameCreator,Mono,SeeDAO, PANews, Mask Network, Flow, and WhiteMatrix, the 2021 Metaverse Creators Carnival will be open from December 20th to 21st. Through this two-day online event, a panorama of metaverse and Web 3.0 will be showcased.
Navigating through year one of the metaverse era, 2021 Metaverse Creators Carnival is here!
Tony Tao, founder of Metaverse Capital, will delve into the economic model of Metaverse based on sandbox games; Wu Xiankun, president of rctAI, will take everyone to experience native blockchain games; Travis Wu, founder and CEO of Highstreet, will talk about the number one buidl player from the perspectives of technology, content and culture; Partners from leading venture capital institutions such as Sky9 Capital will discuss the DAO's transformation effects on investment...
What kind of infrastructure does Metaverse need? What will happen to GameFi in 2022? What are the challenges for data and privacy in Web 3.0? How will Flow build the infrastructure of the metaverse? Such topics will be discussed in this Carnival. More than 40 pioneers of the metaverse will share their practical experience.
Eight organizations including MatrixWorld, DoraFactory, Current.VC and Orange Book will launch eight open discussions on Twitter Space on different topics in two evenings. Experts from both China and abroad will discuss topics such as creator economy, DAO, and GameFi, and discuss how to interact with users in an innovative manner.
You are welcome to log on to the official website(https://mcc.fund/)of Metaspace Paradise to explore. You can not only claim POAPNFT, but also exchange it for medals and NFTs in the SeeDAO community. You can also share in the feast of this new era of science and technology with the creators, and experience the coming future that is taking over the world.
Here's the carnival agenda:
Time: December 20 to 21
Format: live streaming online + Twitter space interaction
Venue: Live on Twitch
Live link: https://www.twitch.tv/mc_carnival
Official website (live link + agenda information): https://mcc.fund/
8 interactive sharing sessions on Twitter Space
Online LIVE Streaming
12/20 14:00-17:00 Gamefi
14:00-14:10 Intro
Han Tang, Initiator of SeeDAO,Founder of CryptoC
14:10-14:25 From Sandbox games to Metaverse economic model
Tony Tao, Founder of y2z Ventures
14:25-14:40 GameFi in Metaverse
Wei Cai, Assistant Professor at The Chinese University of Hong Kong, Shenzhen
14:40-14:55 The future and opportunities of three kinds of Gamefi
K Erica,RhizomeDAO & Guild W
14:55-15:10 Crypto-native Game Experience
Xiankun Wu, President of rct AI
15:10-15:50 The new business of metaverse
Mandy, Founder of Odaliy
Nova, President of Ponlaii
Jun Nie, Founder of Gamker
Azai, Head of Laplap Asia Pacific
15:50-16:05 DAO, The key to the GameFi situation in 2022
Scott Chueng, Karmaverse COO
16:05-16:20 How to actually buidl Ready Player One, the Tech, the Content, and the Culture
Travis Wu, Founder & CEO of Highstreet
16:20-17:00 Do investment institutions need a new 'posture' in Metaverse and Dao Ventures?
Tongtong Bi, Co-founder of PANews
Vincent, Partner of Sky9 Capital
Tony Tao, Founder of y2z Ventures
Kenneth, Investment Director of Mirana Ventures
12/21 9:30-12:00 Web3.0 Infrastructure
9:30-9:50 What kind of infrastructure metaverse needs
Mary Ma,Co-founder of Rangers Protocol
9:50-10:10 Web 3.0, the Way to the Decentralized New Internet
Suji Yan, Mask Network CEO
10:10-10:30 Bandwidth marketplace in the future
Sherlock, MESON NETWORK CEO
10:30-10:50 Information distribution in the age of Web3
Joshua, Founder of RSS3
10:50-11:10 Web3.0 and Blockchain Driven Metaverse
Xiao Wu, ChainIDE CEO
11:10-11:30 intro to Creaverse
Julien, Oversea Manager of GameCreator
11:30 - 12:00 The challenges of data sovereignty and privacy protection in Web 3.0
Yisi Liu, Mask Network CTO
Harry Halpin, Nym CEO
Makoto, Core Developers at ENS
12/21 14:00-16:40 Flowverse
14:00 - 14:20 Flow, the opening of Metaverse
Amber, Chief Executive Manager of Dapper Labs China District.
14:20 - 14:40 Unleash the Beasts into the Flowverse
BZ Creator of Basic Beasts
14:40 - 15:20 The Key to Metaverse
Yvonne Founder & CEO of NFTChina
Char Zhang ATTA COO
William Pucs Founder of THiNG.FUND
Jack Head of Mynft Eco
Yalu Lin Co-founder of Melos
15:20 -15:40 Utility Wearables For Premium Brands
Florent Sroka, Co-founder of Inrift
15:40-16:00 Matrix World - A Programmable 3D Multichain Metaverse
Alvin Sun Co-Founder & CSO of Matrix Labs Inc.
16:00-16:40 Infrastructure of Metaverse
Severus, Dapper Labs China Eco-Partnership Lead
Zhixian Founder of UniPass
Hao Fu Founder of Outblock
Caos Core developer of Flowns, Flow Chinese technical ambassador
Song Zhou, Crust Dev Community Lead(Singapore)
Twitter Space Forum
12/20 20:00-22:00 DAO
20:00 Metaverse 2022
@Y2Z_VenturesSpace
https://twitter.com/i/spaces/1dRKZlvBdZMJB
Tony Tao, Founder of y2z Ventures
Alen, Partner of y2z Ventures
AIKO, Web3 Gaming Analyst
20:30 where we are for DAO Infrastructure
@DoraFactorySpace
https://twitter.com/i/spaces/1ypKdEyWQNoGW
Steve Ngok, Oracle, Dora Factory; Partner, DoraHacks
Wendi Ding, Founder of DAOrayaki
Potter, Co-Founder, ETHSign
21:00 Popular DAO Exploration and Practice
@realmaskchina发起
https://twitter.com/i/spaces/1nAKEYjvrdOKL
Mel Ma, Director of marketing at Mask Network
3.G,Mask Network Community Builder
Holder, Mask Network Community Builder
Emma, Core Member at HashTag
21:30 DAO: A new paradigm of Creator Economy
@see_daoSpace
https://twitter.com/i/spaces/1YqJDqmNwWQxV
Baiyu, Initiator of SeeDAO
Yuwei, co-founder of Unknown DAO
Wangchao, Dao Researcher
Wangkun, Founder of Bewater
Chang Liu, Initiator of MetaLandscape
12/21 20:00-23:00 The Future of Metaverse
20:00 Metaverse Art and Philosophy
@CryptoC_LabsSpace
https://twitter.com/i/spaces/1jMJgeWBzDYKL
Yuanyuan, Independent documentary filmmaker, contemporary art critic
Jiarong Zhang, PhD of Department of Philosophy, Tsinghua University, Developer of Hong Kong Humanities Media ChannelExcogitare,Principal of Pathmark
21:00 Prophecy about the next four years
@chengpishuSpace
https://twitter.com/i/spaces/1BRJjnaOZaeJw
Yang Li, founder of Orangefans
Han Tang, Founder of SeeDAO & CryptoC
Xiang Yao,Founder of Primitives Lane
21:30 Business model innovation and user engagement on metaverse
@PANewsLabSpace
https://twitter.com/i/spaces/1YpKkZPlnPdxj
Eileen,CSO of PANONY
Winston Robson, CEO of WeMeta
Ali Vira, COO of WeMeta
Benji, Co-founder of CyBall
Tin, Co-founder of CyBall
Brendan Wong, CEO of Avocado Guild
Sunny Huang, Head of Community, Avocado Guild
22:30 Journey to Metaverse
@theMatrixWorldSpace
https://twitter.com/i/spaces/1eaJbNZDLgvJX
Xiao Wu, CEO of ChainIDE
Alvin Sun, Director of Matrix Labs
Wei Cai, Assistant Professor at the Chinese University of HongKong, Shenzhen